Online Auction – Neon Keys Sign
August 20 @ 8:00 am

-

September 7 @ 4:00 pm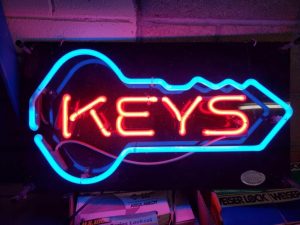 Date & Time: Live Now with Proxibid Lots start closing Tuesday, September 7, 2021  |  4:00 PM Pacific
Preview Date & Times: Preview will be 27 August 2021, (Friday) from 11 am to 3 pm and will be with respect to the covid-19 policies by appt. (Please call for time slot). 408-497-0339.
Checkout Date & Times: Check out is 11,12, and 13 Sept 2021. CALL FOR A TIME SLOT! I will no longer call each individual for an appt. Appts from 10 to 4.
Descriptions: 40 years in the key business. This gentleman had floor to ceiling of boxes of keys and everything else imaginable including the kitchen sinks. The boxes were crushed from stacking and dusty from storage but NOS and sealed boxes. Coming up is Schlage products, Baldwin, Kwiksets, Commercial products such as IR and Miller, locksmith tools, locksmith cutters, Key Mark punches, Tools, hand tools, metal detector, Neon sign to bathroom signs, hubcaps, photographic enlarger set, you just can't imagine what we found it there.
Location: 85 Gilman Ave, Campbell, CA, CA 95008


Special Terms
Property is open to thorough public inspection. It is the Bidder's responsibility to determine condition, age, genuineness, value or any other determining factor. USAuctions may attempt to describe the merchandise in advertising, or on the Internet but makes no representations. In no event shall USAuctions be held responsible for having made or implied any warranty of merchantability or fitness for a particular purpose. Bidder shall be the sole judge of value. Bidders who bid from off site and are not present at the preview understand and acknowledge that they may not be able to inspect an item as well as if they examined it in person.
You are also agreeing on a no charge back policy. Bidder agrees that everything is sold as is where is and that they may not return any item they purchase. USAuctions is providing Internet bidding as a service. Bidder acknowledges and understands that this service may or may not function correctly the day of the auction and USAuctions reserves the right to withdraw or re-catalog items in this auction.
Please Note: WE DO NOT AUTOMATICALLY SHIP. You must Email one of these 2 persons for shipping requests. CVinisko@gmail.com or Mariosancho@gmail.com
Make sure this is done immediately after so they have time to pick up your goods. We have 3 days for check out.
They will pick up and pack then call you direct for shipping payment. Also, they use Pal Pal. If you cannot use PayPal then they will contact me to reach out to you for your credit card payment. Auction will begin ending at 12 pm Pacific on Thursday, 09 September 2021. Preview is August 27, 2021 from 11 am to 3 pm. Please call for a time slot.
Pick up/Removal will be Saturday, Sunday, and Monday , September 11,12, and 13th. (By Appointment only) – YOU MUST CALL ME FOR AN APPT. 408-497-0339.
SEE ALL PHOTOS at Proxibid & BID NOW!