Online Auction – Ivan E. Brown Jr. Estate Auction
September 16 @ 8:00 am

-

4:00 pm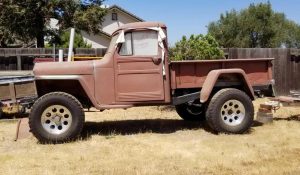 Date & Time: Live Now with Proxibid Auction will begin ending at 4 pm Pacific on Thursday, September 16, 2021.
Preview Date & Times: Preview will be Saturday, 04 September 2021 from 11 to 2. You must call for a time slot. Please bring a mask and be willing to wear in in house. There is a resident whom still occupies the home.
Checkout Date & Times: Check out is 18 and 19 September 2021 by appt only! If your shipping, please email hime so he can be ready as well. It is a 1.5 hour drive for us.
Descriptions: This vehicle had been described as a vintage Willy's due to the uncertainly of the exact year.  (1949 to 1965). The owner was very meticulous  with his work and it showed in his other vehicle that took first place in the Hollister Car Show.
4WD model. Vehicle ID number W385774 Plate Number 2QYQ445 – Also model 8201 shows on a plate inside the vehicle.
This vehicle was in the works. A lot of the work is completed under roof and body.   Final work needs are the wiring, interior and paint.  This is a nice straight truck.
Location: 431 Tierra Del Sol, Hollister, CA 95023


Special Terms
Property is open to thorough public inspection. It is the Bidder's responsibility to determine condition, age, genuineness, value or any other determining factor. USAuctions may attempt to describe the merchandise in advertising, or on the Internet but makes no representations. In no event shall USAuctions be held responsible for having made or implied any warranty of merchantability or fitness for a particular purpose. Bidder shall be the sole judge of value. Bidders who bid from off site and are not present at the preview understand and acknowledge that they may not be able to inspect an item as well as if they examined it in person.
You are also agreeing on a no charge back policy. Bidder agrees that everything is sold as is where is and that they may not return any item they purchase. USAuctions is providing Internet bidding as a service. Bidder acknowledges and understands that this service may or may not function correctly the day of the auction and USAuctions reserves the right to withdraw or re-catalog items in this auction.
Please Note: WE DO NOT AUTOMATICALLY SHIP. Your shipper for this sale will be Corey at CVinisko@gmail.com. You will need to Email him a pick up and ship request. Make sure this is done immediately after so he will have time to pick up your goods.
He will pick up and pack then call you direct for shipping payment. Since some of these items are fragile I would recommend insurance as well. Also, they use Pal Pal. If you cannot use PayPal then they will contact me to reach out to you for your credit card payment.
Auction will begin ending at 4 pm Pacific on Thursday, September 16, 2021. Pick up/Removal will be Saturday, September 18, 2021 and Sunday, September 19, 2021, Starting at 11 am. Please call for a time slot. Auction Location: 431 Tierra Del Sol, Hollister, CA 95023

SEE ALL PHOTOS at Proxibid & BID NOW!